Here's an email snippet from a lift kit installation shopper investigating different options.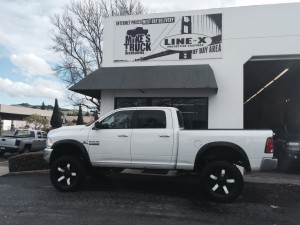 Rich

        Seriously bro. You're a solid dude!  Thank you for the Kick Ass selection!  I'm naturally gunning for the last package you put together. It sounds pretty damn wicked.  I'm waiting for a loan approval and as soon as I get approved (fingers crossed) I'll give you a call to get this ball rolling!  Your professionalism is above and beyond the other shops I talked to. Seriously….  Thanks in advance and I hope to be calling you soon with a green light!

 

Ps

I'm still slightly torn between the 6 and 8 inch suspension lifts.  I completely understood everything you said on our previous conversation but…… S#&*t.  I don't know.  That's all I can say.  Let me get this damn loan approved first before anything else.  Talk to you soon.

 

Ken
Bay Area Truck Crisis Center – Mike's Truck performs upgrade to Karl's 2014 GMC 4X4 Sierra. Upgrade includes 6″ suspension lift, tires and rims, AMP Power Steps with LED lighting, custom Polyurea premium spray-in bed liner, and Magna flow dual exhaust with black tips. Total time Karl's truck spent at the Crisis Center – 4 days.
This is not the first time Karl has customized one of his trucks from top to bottom. He shopped around – his smile says it all. Thanks again Karl. Karl says, there is a new shop in town! New to Hayward – yes. Mikes Truck has been in business since 1983 in the Bay Area.
At Mike's Truck we add real value and stand behind our work. If you have a problem with one of our installs we will fix it FREE. Please check out our Yelp Reviews   http://www.yelp.com/biz/mikes-truck-outfitters-santa-clara-4 We know trucks. Run with the Big Dogs – Stop in at Mike's Truck has two locations and let's get something started!.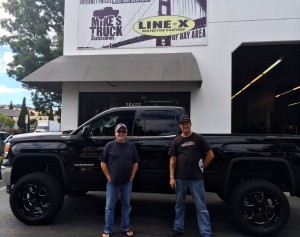 Meet Karl from San Mateo (left)  and Scott(Chief Surgeon)
Here's the project from start to finish.
Mike's Truck in Santa Clara just updated a 2001 F250 Crew Cab with new Rims and Tires, Running Board, Performance Package, and a bed liner. Mike's also installed a 4″ lift Pro Comp Lift with new shocks. This truck went from being one of thousands to a personalized vehicle that is both sharp, functional, and new life.