For this fun project we did a couple weeks ago, an engineering team wanted us to coat the projects they had been working on with polyurea! The main project was for the exterior of their all electric self-driving car that they have made with styrofoam. The fun little side projects they did were a sculpture of a unicorn and dinosaur that were also made with styrofoam! The engineer's plan was to build an all electric self-driving car that would drive around San Francisco with a unicorn and dinosaur attached to it. The thing is, styrofoam is a somewhat fragile, but also a light material so the engineers wanted a way to make their projects more durable, so what better way is it to do than the Mike's Truck way? That's where we step in and give them our expertise. Our team was able to take their project to the next level adding durability and color to their project. The first step we did was a base coat of polyurea in the color white. After that, we did a second layer top coat of polyurea to their respective colors. You can turn polyurea into any color of your choosing and also, the great part about polyurea is that it can make something so light and fragile, so resilient just by adding a coat. It won't add bulk nor deform whatever it is coated on! The engineers chose a lime green finish for their dinosaur, a lavender finish for the unicorn, and a regular black finish for their self-driving car. Were you able to catch the car driving itself around San Francisco with a purple unicorn and a green dinosaur on it? Come down to Mike's Truck and Spray-On Bedliners and get whatever your heart desires to be coated, and we can coat anything and we mean anything!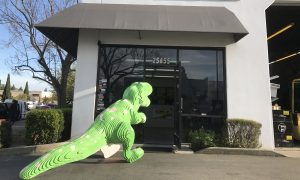 Spray-On Bedliners of Silicon Valley Protect Dublin San Ramon Water District's Containers
When it comes to protecting raw metal, steel, or wood nothing protects like Polyurea. Dublin San Ramon Water Districts just received two new containers. These containers are used to hold the waste when the city cleans the street drains. As one could imagine lots of rocks, sand, and tree branches find there way into city street drains which is hauled away. Because this container would be subject to lots of heavy debris Polyurea is perfect solution. This product has great flexibility and wear properties that will protect the container for years to come.
This job required two half days to complete. The first day was spent prepping the surface. The surface must be free from oil and rust to obtain a near white metal profile for the proprietary primer. The job surrounding site has been protected by heavy tarps to catch any waste or over spray. Once this is all setup the fun begins.
In the above photo all grease has been wiped off and the remaining residue washed with hot soapy water, rinsed with clean water. After the container is completely dry the team uses grinders to remove rust. Once this has been completed the entire area to be coated is primed. The photo below shows the container with primer.
This primer has a re-coat time between 12 – 24 hours. The project was complete the following day. The spec calls for 60 mils on the sides and heavier on the bottom. The bottom photo shows the completed project after removal of paper and plastic covering.
This container is ready for full service the following day.  Dublin San Ramon Water District receives the best protection available for their new containers. This protection is far superior than anything on the market today.
Call use today to discuss your commercial water-proofing needs. If it can be sprayed it can be saved… Water-proof with Polyurea!
Mike's Truck of Bay Area just completed refurbishing a set of emergency bridges for the Union City Water Treatment Plant Emergency Bridges saved from Elements. Water proofing these bridges with one Polyurea application permanently seals the structure from moisture and guarantees that these bridges will never rust. Never rusting means never deteriorating.
These bridges were sitting in their Equipment yard in Union city. The bridges had been exposed to the elements for years because the paint had already broken down allowing rust to soon take over. Re-coating these structures made economical sense over replacing.
Polyurea material is a heated sealing process that dries instantly when applied. It is particularly useful for iron, steel, metal surfaces that need to be protected from rust and the elements. In this application, the bridges are stripped by sand blasting and taken into the spray booth. After waterproofing with Polyurea, a non-slip surface is installed. The result is an amazing non-skid waterproof finish that is guaranteed to last a lifetime. Polyurea can be applied in any color to match your situation.
Call us today to discuss your commercial water-proofing needs.
If it can be sprayed, it can be saved – water-proofed with Rhino Linings!