Mike's Truck & Spray-On Bedliners Bay Area permanently resolved a leak in the roof of a University of Santa Clara Team Bus.
The University of Santa Clara Team bus had leaked before and the solution was to apply caulking to the seam – you can see in the photos – the line that runs the length of the roof. To properly fix the leak, all of the caulking had to be removed and the roof scuffed. Then the entire bus was masked off to protect any areas from overspray.
Polyurea is THE PERFECT SOLUTION for water-proofing because it is SIX TIMES more flexible than caulking and can be stretched 600% without failing. Guaranteed to not leak! PERFECT for the roof on a rolling, flexing bus or any RV roof repair.
As you can see, this is a very large size job, but we have the facilities to accommodate! The bus was brought into our 35 foot spray booth so that the material is sprayed in one application. After it's sprayed it takes just a few seconds for the material to dry. It dries solid and seals out any moisture. It's a thick indelible finish that will NEVER leak again!
Do you have something that needs to be protected from the elements?
Seal out leaks with one application of Polyurea!
This is no ordinary truck… atleast NOT anymore!!
This BEAUTIFUL 2014 Dodge Ram Cummins Turbo Diesel came in to our shop and just a few days later it left with a Bullet Liner bed liner installed and was transformed into a custom LIFTED BEAUTY with custom painted wheels!! at our Mike's Truck  shop in Hayward.
ALL the truck accessories AND the installation were completed at Mike's Truck in Hayward.
6″ Pro Comp Suspension Lift Kit
MBRP Exhaust
Bushwacker Pocket Style Fender Flares
37″ Mickey Thompson ATZ tires
20″ XD Rockstar 2 Rims custom painted to match the white
AMP Research Power Hideaway Step ('roop' sound not included)
What were you thinking of changing on your car, truck, RV, motorcycle, etc… ?
Mike's Truck Accessories provided protection to the underside of the fenders and running-boards coating with Polyurea. This 1937 Ford Hotrod is being built from scratch. These parts are now protected from rocks and road hazards for the life of this car.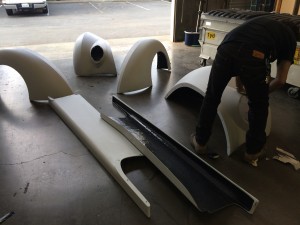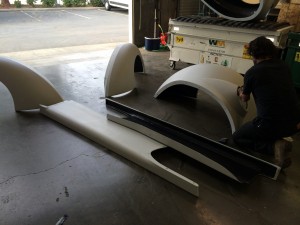 Mike's Truck Accessories puts a smile on this 2001 Chev truck. Truck has been lifted, shocks, tires, and truck bed updated with Bullet Liner liner. With this truck you will need a ladder or an electronic step. The truck sits 43″ high at the floor of the cab.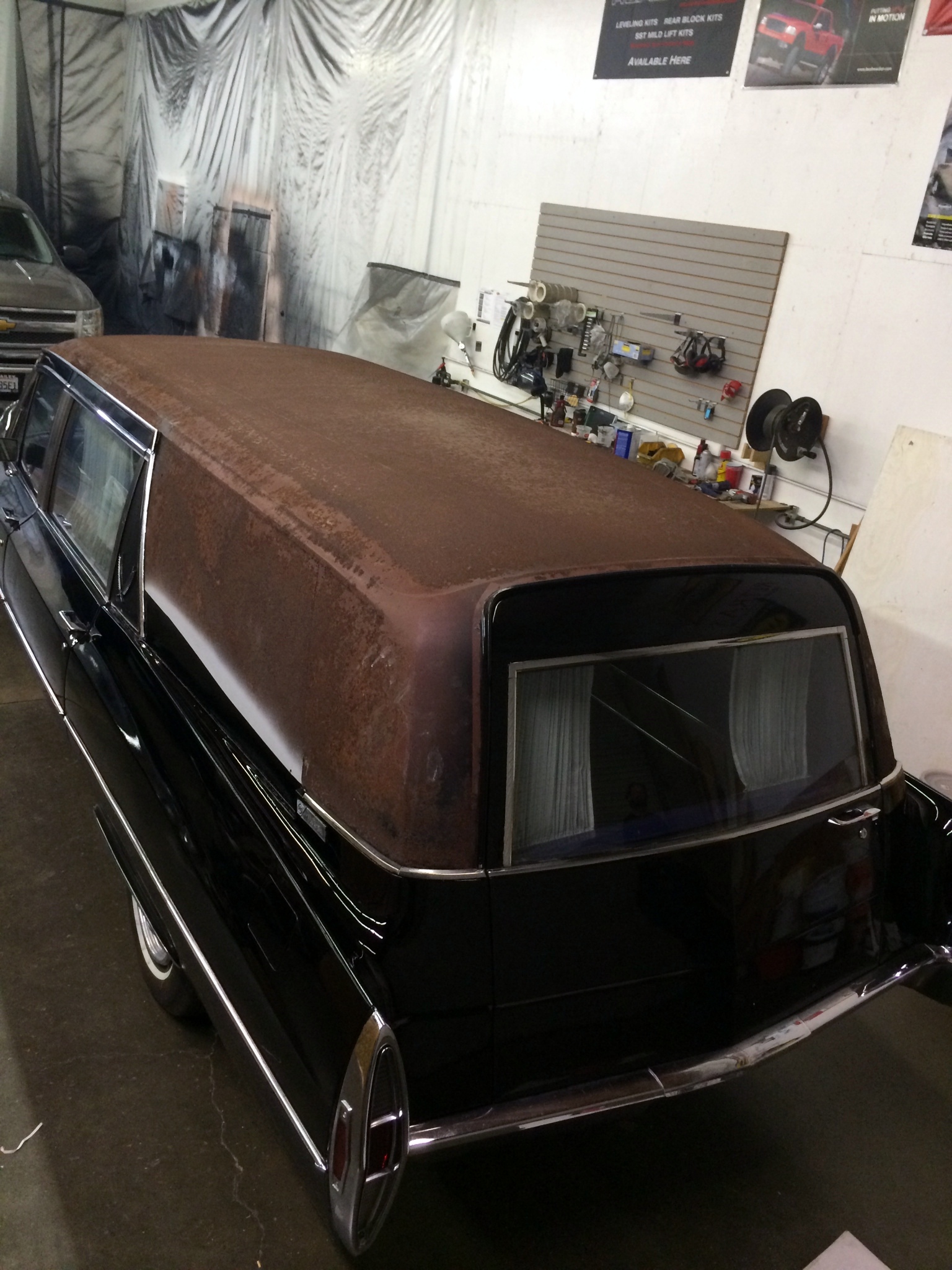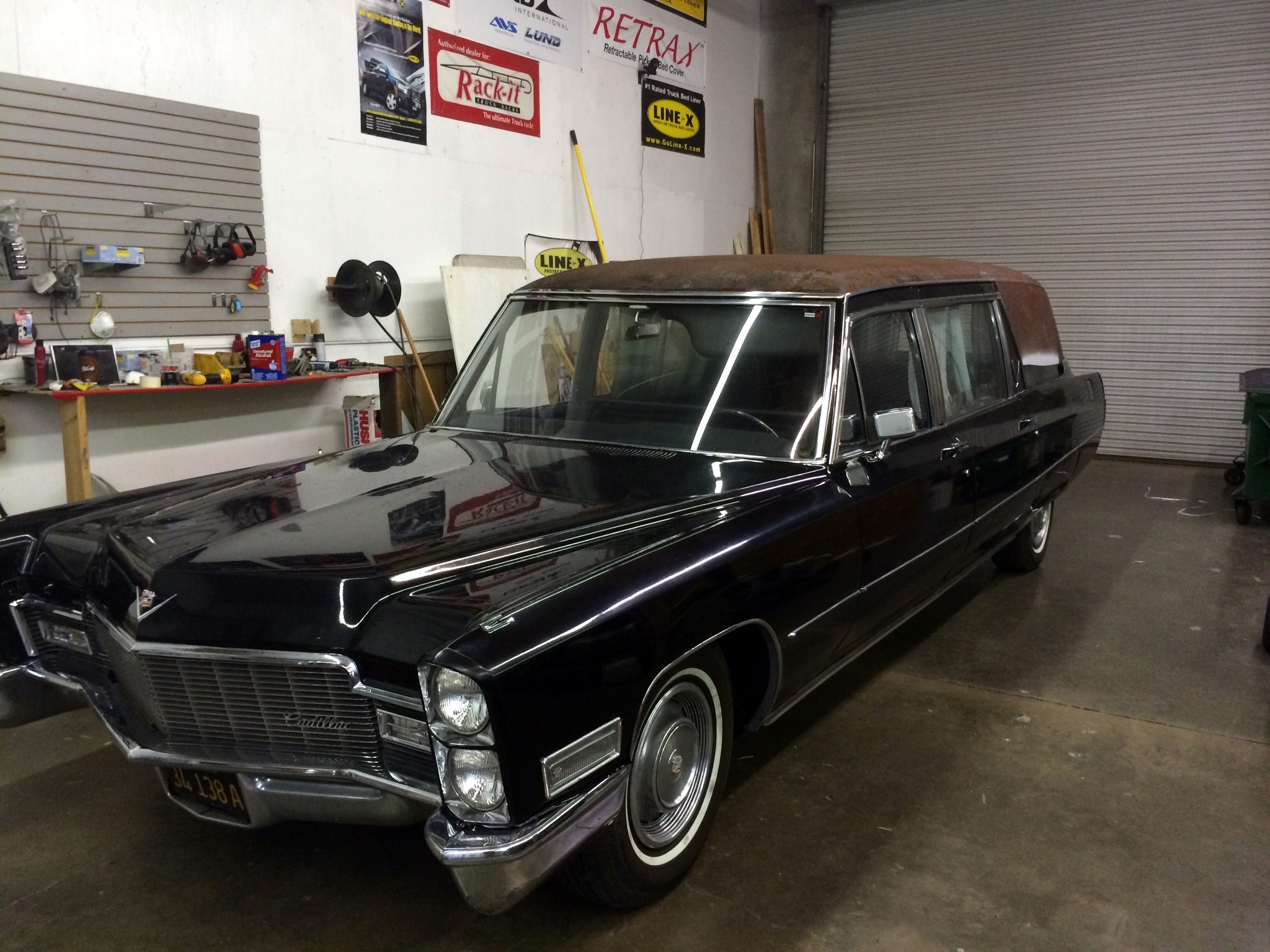 Mike's Truck works on lots of different projects. The new year brings lots of projects in – including this 1958 Cadillac Hearse. This Caddy had a vinyl roof that was worn, torn, and non-existent. Mike's Truck performs emergency surgery on the Hearse car roof in Jan 2014.
.
A whole lotta protection
The spray-in bedliner industry is starting to find a new business opportunity among pickup owners who are having the whole truck covered in the vinyl-like substance, not just the cargo box.
Not just pickups are getting the treatment. Some customers have brought in golf carts, tractors, ATVs or other off-road vehicles for the all-over job, she says. Some don't just go for a mundane dark gray but rather choose a desert tan to give the vehicle a military look. It helps that customers have taken to flat, or matte, paint tones in the past few years to give their vehicles a more sinister appearance than traditional glistening paint jobs.