Spray-On Bedliner of Silicon Valley provide protection where it counts for Stanford's Humanoid Robotic Diver – "Mermaid"
Stanford's Humanoid Robotic Diver started out as a box of blocks about a year ago and has just made world news.
Stanford's Ocean One is the first prototype of what may be a team of robotic divers that are currently controlled remotely. The advancement of processor technology and software make automation a certainly. It's only a matter of time before one of Ocean One's distant beta versions will be task driven from a daily software boot and able to work independently.
As far as we are concerned it started like so many other projects – hey can you coat these. Well let's backup, it started out – A couple of Stanford students walk into Mike's Truck and ask, can you coat this sample material? Concerns are always, how well does the media handle temperatures heated to 180 which becomes even hotter as the exothermic reaction of the 'A' and 'B' parts are mixed at 1800 – 2500 psi. The cool thing about Polyurea is one can use anything to create the shape – foam, paper cups, light bulbs, card board boxes, etc. Once the item is coated Polyurea provides the structure and the substrate is no longer needed. It's the elongation, adherence, and wear resistance that make it unique.
For Ocean One, Spray-On Bedliners of Silicon Valley coated parts. Always great to see a project come together – congratulations Stanford, specifically, the computer science dept that drove this to completion! Remember, from one salvage diver to another – our charter is the safe retrieval of lost objects.
Congratulations Pat Conkin!! Winner of the 2 Tickets to the Sharks Kings game next weekend! So the next step for you, Pat, is to contact Rich at the store by emailing him at rich@mikestruck.org to make arrangements to get the tickets.
A very good client of ours brought his Special Edition 1986 Ford Quadratrack 4WD Van in to us here at Mike's Truck Bay Area.  Some of you may know this Van as Hank the Happy Tank AKA 'The Black Duck". You may or may not be aware of this but there is a Facebook page with more than 35 likes (www.facebook.com/hankhappytank) photo journaling some of the Van's adventures. As you can see, this 1 Ton Diesel has quite a bit of wear and use that needs to be re-aligned to put this Van back to it's youth. Well Mike's Truck Bay Area is just the right place for that. When we're done with it, it will be back to being the Off-Road monster Van it once was!
The Goal: Make it like new.
Fix all rust and corrosion inside and out.
PHASE I: After identifying rust and weak areas, we remove the mirrors, accessories, bumpers & roof rack. All rust and corrosion is sand blasted and/or sanded off. That nasty drip rail is re-welded. Holes are patch welded. Seams are made smooth. The whole exterior is scuffed & cleaned up for PHASE II.
PHASE II: Mask out & primer gray the surface. Next, apply a coat of paint color Polyurea See details here: mikestruck.org/?p=
PHASE III: Put everything back together and take some glamour shots!
Share this story on Facebook, Twitter, Instagram
Non Slip Surface from Mike's Truck of Bay Area was installed on The Sea-Dog in the crew area. This is a 26′ Osprey from Half Moon Bay that was picked up and will delivered once upgraded. The floor area was color-matched to the existing cushions with non-slip Polyurea flooring.
City of Palo Alto maintenance protects heavy equipment by hiring Spray-On Bedliner of Silicon to coat the city's Street Tree and Brush Clean-up hood.
Before picture of stock Tree & Brush Hood.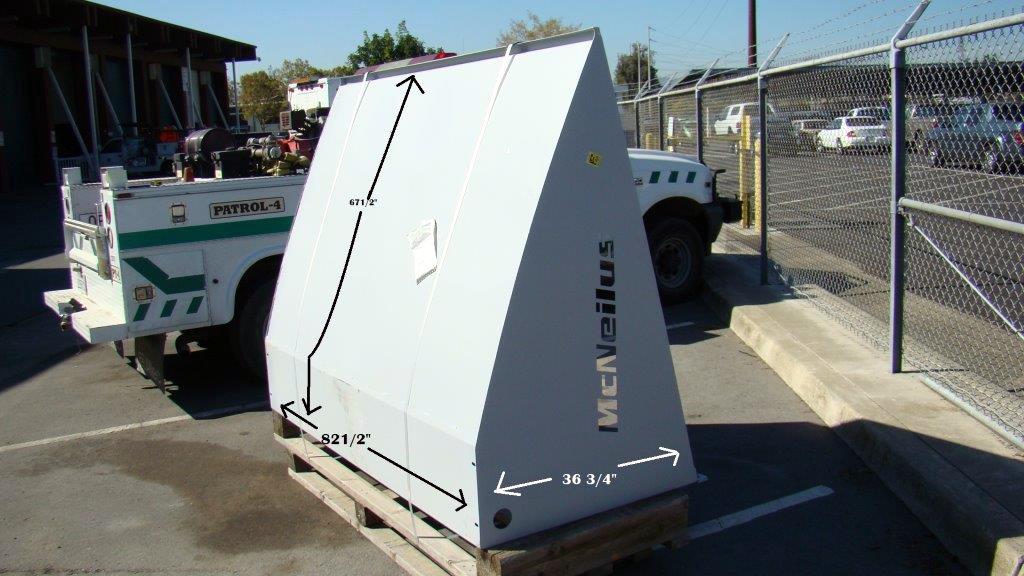 After picture coated with Polyurea
Don't forget to take in a once in a life time event – right here in our backyard. America's Cup race will grow on you.
To check out the action – click here.
.
A whole lotta protection
The spray-in bedliner industry is starting to find a new business opportunity among pickup owners who are having the whole truck covered in the vinyl-like substance, not just the cargo box.
Not just pickups are getting the treatment. Some customers have brought in golf carts, tractors, ATVs or other off-road vehicles for the all-over job, she says. Some don't just go for a mundane dark gray but rather choose a desert tan to give the vehicle a military look. It helps that customers have taken to flat, or matte, paint tones in the past few years to give their vehicles a more sinister appearance than traditional glistening paint jobs.
Make sure to check here for the latest news from Mike's Truck