Here's an email snippet from a lift kit installation shopper investigating different options.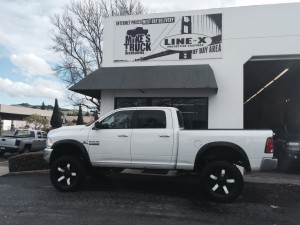 Rich

        Seriously bro. You're a solid dude!  Thank you for the Kick Ass selection!  I'm naturally gunning for the last package you put together. It sounds pretty damn wicked.  I'm waiting for a loan approval and as soon as I get approved (fingers crossed) I'll give you a call to get this ball rolling!  Your professionalism is above and beyond the other shops I talked to. Seriously….  Thanks in advance and I hope to be calling you soon with a green light!

 

Ps

I'm still slightly torn between the 6 and 8 inch suspension lifts.  I completely understood everything you said on our previous conversation but…… S#&*t.  I don't know.  That's all I can say.  Let me get this damn loan approved first before anything else.  Talk to you soon.

 

Ken

Alameda SWAT Monster gets truck accessories & Rhino Liner
The Alameda County Sheriff's Department SWAT team brought their MONSTER size Armored Truck into Mike's Truck, the San Francisco Crisis Center for the Bay Area for some work.
Mike's solved a MONSTER engine overheating problem by installing an air scoop to the hood. They then sealed it all in Rhino Lining making the truck heat & weather resistant for good! This impressive MONSTER truck is fit for battle!
Mike's Truck & Rhino Linings are dedicated to your truck accessories and bed liner needs. Tailgate with us at the next SF 49er or Oakland Raider game!
See PHASE I here: http://mikestruck.org/1986-quadratrack-mikes-truck-accessories
Now that the first phase has been completed – which was to remove external truck accessories, bumpers, mirrors, door handles, etc. Followed by sand blasting, sanding, welding, replacing and renewing any body damage. Including completely cutting off the huge portions of rusted out drip rail and then welding in a new (recycled) drip rail that we found on another van at a parts yard.
The body was then sealed in light gray coating as the primer. Mike's Truck uses a 100% solids (no air pollution), thermoplastic polyurethane and polyurea. The materials are precisely dispensed through a high pressure polyurethane spray machine. The material is heated to 120-140 degrees with the temperature maintained through a heated hose. Using high pressure, the materials is applied. It takes less than 5 seconds for it to harden. As soon as it lands on the surface it's dry! If it's sprayed from too far away, it won't stick because it will have already dried. Amazing material and process!
Mike's Truck & Bullet Liner products are a fast-cure, multipurpose series of coatings designed for a wide range of retail, commercial, and industrial uses. They exhibit excellent adhesion to most properly prepared surfaces. There are no solvents associated with these products, which means there are no air pollutants or harmful environmental contaminates.
Mike's Truck & Bullet Liner Protective Coatings are resistant to most solvents and acids, making them ideal for industrial and commercial applications where corrosion is prevalent. This greatly extends equipment and vehicle life expectancy. It has a high "shore D" hardness rating, offering excellent impact resistance and superior tensile strengths (up to 6,600 psi) resulting in outstanding abrasion resistance. Because the material is sprayed there is a complete seal, making the coating "water tight".
Mike's Truck is dedicated to your truck accessories and bed liner needs. Tailgate with us at the next SF 49er or Oakland Raider game!

Shown above: 2011 Toyota Tundra with 35″ with stock Forged TRD wheels
Problem: tires rubbing
Solution: Pro Comp 6″ Lift kit, installed

Turnaround: 3 days
Take your driving experience to the next level!
Pro Comp makes products that deliver results. Pro Comp Lift Kits will not only improve the drivability but will also enhance the maneuverability. Top rated for longevity, durability, and reliability. Pro Comp's team consists of expert engineers that have the most experience and knowledge. Pro Comp Lift's are used by professionals, enthusiast, and every day drivers. Pro Comp uses the most durable materials and product that will transform any vehicle.
Mike's Truck of Bay Area installs ProComp products. Pro Comp Suspension is a recognized worldwide leader. Pro Comp Lift Kits are considered the most dependable and durable kits that will give any vehicle a smoother ride for years to come. Pro Comp Lifts began in 1992 and are now considered the top aftermarket manufacturer in the suspension category.
When it comes to your vehicles handling, look and performance, Mike's Truck  truck accessories will get you customized RIGHT!


Call Mike's today for your best custom solution.
This is no ordinary truck… atleast NOT anymore!!
This BEAUTIFUL 2014 Dodge Ram Cummins Turbo Diesel came in to our shop and just a few days later it left with a Bullet Liner bed liner installed and was transformed into a custom LIFTED BEAUTY with custom painted wheels!! at our Mike's Truck  shop in Hayward.
ALL the truck accessories AND the installation were completed at Mike's Truck in Hayward.
6″ Pro Comp Suspension Lift Kit
MBRP Exhaust
Bushwacker Pocket Style Fender Flares
37″ Mickey Thompson ATZ tires
20″ XD Rockstar 2 Rims custom painted to match the white
AMP Research Power Hideaway Step ('roop' sound not included)
What were you thinking of changing on your car, truck, RV, motorcycle, etc… ?