This home in Lake Tahoe needed an update on the deck. Traditionally it has been coated, stained and painted every 2 years.
For this fun project we did a couple weeks ago, an engineering team wanted us to coat the projects they had been working on with polyurea! The main project was for the exterior of their all electric self-driving car that they have made with styrofoam. The fun little side projects they did were a sculpture of a unicorn and dinosaur that were also made with styrofoam! The engineer's plan was to build an all electric self-driving car that would drive around San Francisco with a unicorn and dinosaur attached to it. The thing is, styrofoam is a somewhat fragile, but also a light material so the engineers wanted a way to make their projects more durable, so what better way is it to do than the Mike's Truck way? That's where we step in and give them our expertise. Our team was able to take their project to the next level adding durability and color to their project. The first step we did was a base coat of polyurea in the color white. After that, we did a second layer top coat of polyurea to their respective colors. You can turn polyurea into any color of your choosing and also, the great part about polyurea is that it can make something so light and fragile, so resilient just by adding a coat. It won't add bulk nor deform whatever it is coated on! The engineers chose a lime green finish for their dinosaur, a lavender finish for the unicorn, and a regular black finish for their self-driving car. Were you able to catch the car driving itself around San Francisco with a purple unicorn and a green dinosaur on it? Come down to Mike's Truck and Spray-On Bedliners and get whatever your heart desires to be coated, and we can coat anything and we mean anything!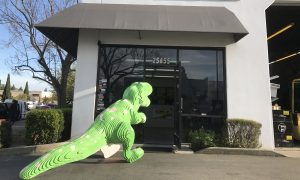 Your house is an investment that can create money-saving benefits indoors and outdoors. Whether you are looking to insulate, reduce noise, waterproof or save time and money from water sealing and painting each year. Polyurea used for waterproofing retaining walls on Mill Valley Homes.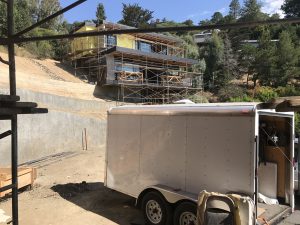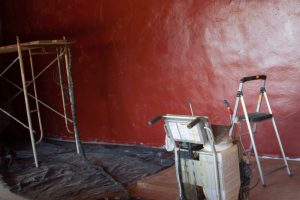 A Polyurea primer used on retaining wall, before the polyurea is sprayed.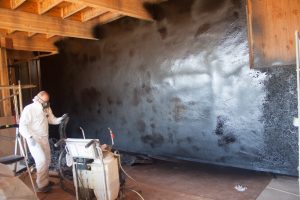 Polyurea applied to wall for the ultimate in waterproofing. Looking for money-saving benefits for your home?
Polyurea has home improvement solutions that can save you money and enhance your home.
Whether you are looking to insulate, reduce noise, waterproof, or repair a cracked garage or patio floor, Polyurea coatings can do the job.
In many parts of the country, Polyurea is the best known waterproof decking solution. Local contractors specify Polyurea by name in their plans and build decks to the proven standards that ensure a complete long lasting
solution for the homeowner.
Damp basements are a frequent complaint of homeowners. A majority of new homes develop basement
leaks within 10 to 15 years, largely due to the concrete foundation. Because concrete is porous, water can easily permeate deep into cracks and pores causing damage. The best way to prevent water from eroding and penetrating concrete is to seal any pores and cracks with a waterproof membrane on the outside of the foundation.
Additionally, Polyurea has a high elasticity which allows it to adjust to
a settling foundation without cracking– essential to waterproofing a foundation.
So for all your waterproofing needs call Mike's Truck & Polyurea.
Spray-On Bedliners of Silicon Valley Protect Dublin San Ramon Water District's Containers
When it comes to protecting raw metal, steel, or wood nothing protects like Polyurea. Dublin San Ramon Water Districts just received two new containers. These containers are used to hold the waste when the city cleans the street drains. As one could imagine lots of rocks, sand, and tree branches find there way into city street drains which is hauled away. Because this container would be subject to lots of heavy debris Polyurea is perfect solution. This product has great flexibility and wear properties that will protect the container for years to come.
This job required two half days to complete. The first day was spent prepping the surface. The surface must be free from oil and rust to obtain a near white metal profile for the proprietary primer. The job surrounding site has been protected by heavy tarps to catch any waste or over spray. Once this is all setup the fun begins.
In the above photo all grease has been wiped off and the remaining residue washed with hot soapy water, rinsed with clean water. After the container is completely dry the team uses grinders to remove rust. Once this has been completed the entire area to be coated is primed. The photo below shows the container with primer.
This primer has a re-coat time between 12 – 24 hours. The project was complete the following day. The spec calls for 60 mils on the sides and heavier on the bottom. The bottom photo shows the completed project after removal of paper and plastic covering.
This container is ready for full service the following day.  Dublin San Ramon Water District receives the best protection available for their new containers. This protection is far superior than anything on the market today.
Call use today to discuss your commercial water-proofing needs. If it can be sprayed it can be saved… Water-proof with Polyurea!
Spending Time in The Sierra's for the 49th Annual Sierra Trek
Lot's of good things going on in them thar mountains… Mike's Truck attend this years Sierra Trek 2016.
During the past 40-plus years, Sierra Trek has attracted participants from around the world; it's become an annual summer destination for generations of four wheelers. Access to the Summit City base camp at Meadow Lake is suitable for campers, trailers, and motorhomes.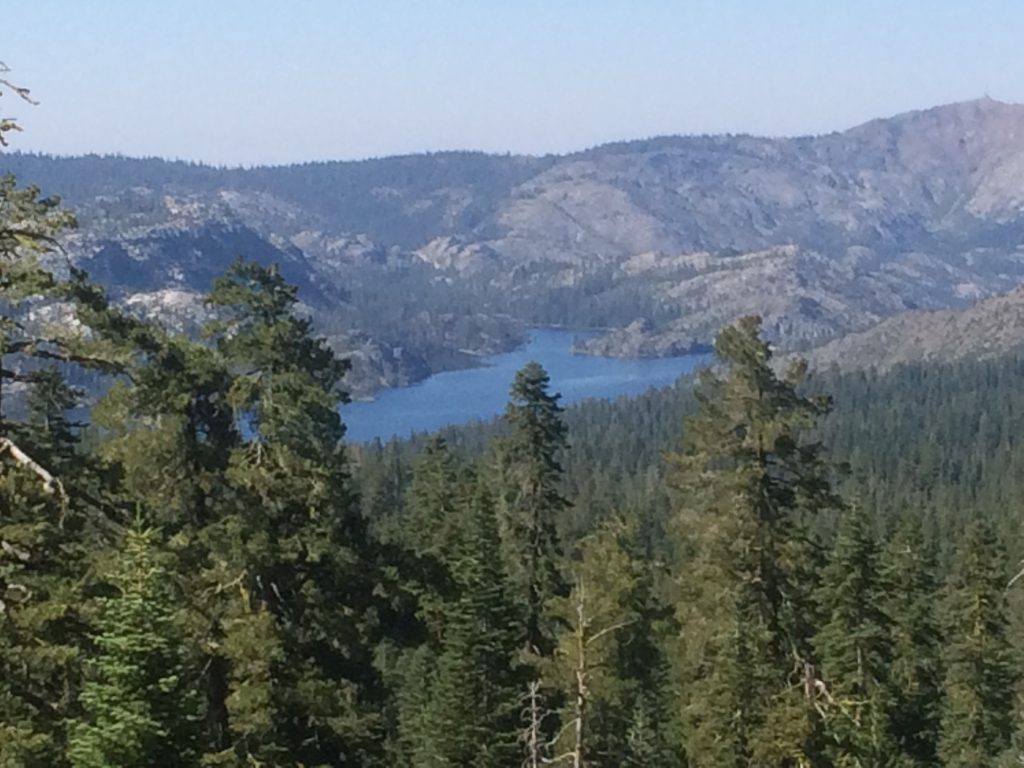 The base camp was complete with breakfast, dinner, huge fire pit, saloon, nightly music, vendors, hot showers and a whole lotta trucks, jeeps and families doing what folks have done for generations. Reunite with friends on a family friendly camping trip where the kids have as much fun as mom and dad. I was amazed on the number of kids that have attended the annual Sierra Trek event for as long as they are old.
Here's a short video out on the trail at Winch Hill #5 Video.
Our veterans were also honored by having a parade through the courtyard after very rugged trip up a trail that is so difficult a winch is required equipment. Fordyce Creek Trail has 5 areas called Winch Hills. That is, help is available should one need it.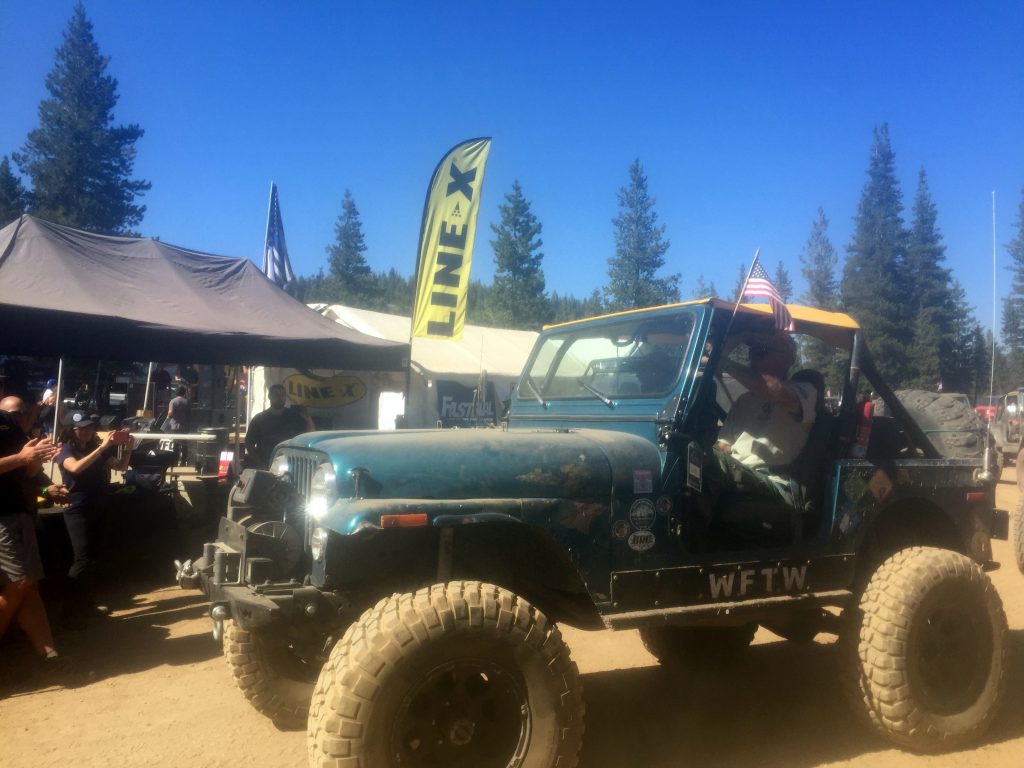 Wounded Warrior event had veterans making the trek on Fordyce Creek Trail to Meadow Lake up some very difficult terrain and ending with a parade through the base camp court yard. As a veteran myself, I am so glad to finally see these young men honored on a frequent basis.
So as a So Cal guy who moved North in 91 and never ventured any further north than Truckee… I am glad I made this trip. The high meadows and plains of the Sierra's are an area of California I will continue to explore.
Spray-On Bedliner of Silicon Valley provide protection where it counts for Stanford's Humanoid Robotic Diver – "Mermaid"
Stanford's Humanoid Robotic Diver started out as a box of blocks about a year ago and has just made world news.
Stanford's Ocean One is the first prototype of what may be a team of robotic divers that are currently controlled remotely. The advancement of processor technology and software make automation a certainly. It's only a matter of time before one of Ocean One's distant beta versions will be task driven from a daily software boot and able to work independently.
As far as we are concerned it started like so many other projects – hey can you coat these. Well let's backup, it started out – A couple of Stanford students walk into Mike's Truck and ask, can you coat this sample material? Concerns are always, how well does the media handle temperatures heated to 180 which becomes even hotter as the exothermic reaction of the 'A' and 'B' parts are mixed at 1800 – 2500 psi. The cool thing about Polyurea is one can use anything to create the shape – foam, paper cups, light bulbs, card board boxes, etc. Once the item is coated Polyurea provides the structure and the substrate is no longer needed. It's the elongation, adherence, and wear resistance that make it unique.
For Ocean One, Spray-On Bedliners of Silicon Valley coated parts. Always great to see a project come together – congratulations Stanford, specifically, the computer science dept that drove this to completion! Remember, from one salvage diver to another – our charter is the safe retrieval of lost objects.
Didn't this trailer turn out amazing?!! Before pictures taken at Mike's Truck business, one look at this trailer one would think "it's gonna take a lot of elbow grease to get this trailer back in shape". How long do you think it would take? — imagine a lot of sanding, maybe sandblasting. Or if that doesn't work, then get the proper power tools if you don't have them. So that means a little shopping trip down to the local hardware store – finding those items. Just thinking about doing all of that makes you say to yourself… 'maybe I'll work on this next weekend'. Or 'is this thing even worth making it like new?
AND… surprisingly, the story behind this trailer is that it is only 2 years old! The salt air in Pacifica had rusted out this trailer in no-time. One treatment of polyurea solved the problem. Permanently.
As you can see, we removed the wood platform to get to the metal frame supports. We did have to prep, which means sanding and cleaning all metal surfaces, but that is all done in our Hayward shop. The Hayward location has a prep & spray stall large enough to work on a full size bus.
What do you have that might benefit from Spray-On bedliners protection?
Stop by & See Us at GoodGuys Show
Mike's Truck Accessories & Spray-On Bedliner
at the GoodGuys Autumn Get-Together
in Pleasanton, CA
Alameda County Fairgrounds!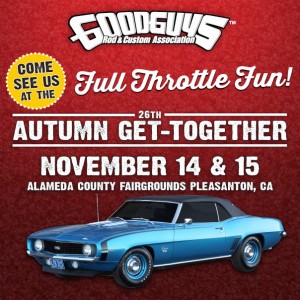 See you there Nov 14 & 15!
Here's an email snippet from a lift kit installation shopper investigating different options.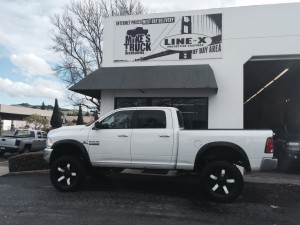 Rich

        Seriously bro. You're a solid dude!  Thank you for the Kick Ass selection!  I'm naturally gunning for the last package you put together. It sounds pretty damn wicked.  I'm waiting for a loan approval and as soon as I get approved (fingers crossed) I'll give you a call to get this ball rolling!  Your professionalism is above and beyond the other shops I talked to. Seriously….  Thanks in advance and I hope to be calling you soon with a green light!

 

Ps

I'm still slightly torn between the 6 and 8 inch suspension lifts.  I completely understood everything you said on our previous conversation but…… S#&*t.  I don't know.  That's all I can say.  Let me get this damn loan approved first before anything else.  Talk to you soon.

 

Ken
Yesterday was straight out of a chapter in – Hop on POP by Dr Seuss for some Dad at Discovery Bay launch ramp.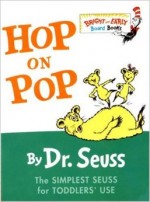 Specifically the chapter Stop you must not hop on POP – What a bad day Dad had. The stories run from – he forgot to put the parking break on. He jump out and left it in gear – or – the tires where wet – began to spin… let's just say he went into the drink with the tires smoking.