Bay Area Truck Crisis Center – Mike's Truck performs upgrade to Karl's 2014 GMC 4X4 Sierra. Upgrade includes 6″ suspension lift, tires and rims, AMP Power Steps with LED lighting, custom Polyurea premium spray-in bed liner, and Magna flow dual exhaust with black tips. Total time Karl's truck spent at the Crisis Center – 4 days.
This is not the first time Karl has customized one of his trucks from top to bottom. He shopped around – his smile says it all. Thanks again Karl. Karl says, there is a new shop in town! New to Hayward – yes. Mikes Truck has been in business since 1983 in the Bay Area.
At Mike's Truck we add real value and stand behind our work. If you have a problem with one of our installs we will fix it FREE. Please check out our Yelp Reviews   http://www.yelp.com/biz/mikes-truck-outfitters-santa-clara-4 We know trucks. Run with the Big Dogs – Stop in at Mike's Truck has two locations and let's get something started!.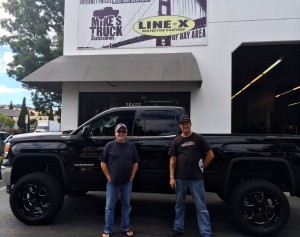 Meet Karl from San Mateo (left)  and Scott(Chief Surgeon)
Here's the project from start to finish.
It's early Friday afternoon and you receive a call from Mike's Truck – Your truck is ready! Your truck has gone from looking like one of thousands to a custom ride – Your Custom Ride!
Lift Kit, Tires, Wheels, Step Bars, and Tonneau Cover have been installed. Now need to think about projection. Rocker panels need protection. 4 X 4 aggressive tires pick up lots of rocks and cause damage and dings to the rocker panels. With custom rocker panel protection this problem goes away forever. Mike's Truck can color match your rocker panels that will blend in with the original paint color or create a contrast. Here's a Dodge Ram truck with custom rockers installed.