Alameda SWAT Monster gets truck accessories & Rhino Liner
The Alameda County Sheriff's Department SWAT team brought their MONSTER size Armored Truck into Mike's Truck, the San Francisco Crisis Center for the Bay Area for some work.
Mike's solved a MONSTER engine overheating problem by installing an air scoop to the hood. They then sealed it all in Rhino Lining making the truck heat & weather resistant for good! This impressive MONSTER truck is fit for battle!
Mike's Truck & Rhino Linings are dedicated to your truck accessories and bed liner needs. Tailgate with us at the next SF 49er or Oakland Raider game!
Alameda K9 Car Receives Upgrade
Mike's Truck of Bay Area was tasked with improving Rin Tin Tin's office. Rin had a habit of tearing up the rubber floor weekly. He also liked the fact the rear portion of the front seat was accessible when he was bored. The solution was to remove the rubber flooring material and coat it with Polyurea.
Alameda K9 Patrol Car into Shop at Mike's Truck
Rin Tin Tin takes a Break? Not!
Rin seldom takes a break, however! Here, Rin works on his take down skills in front of Mike's Truck of Bay Area while his office is being renovated.
Taping is done – Prime and Coat!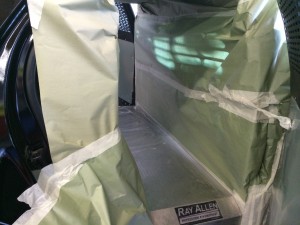 Upgrade is Complete
Rin still has plenty of traction with the texture coating that was applied at Mike's Truck of Bay Area. Now if Rin Tin Tin is able to eat this floor – Let's just say Houston we have a problem!